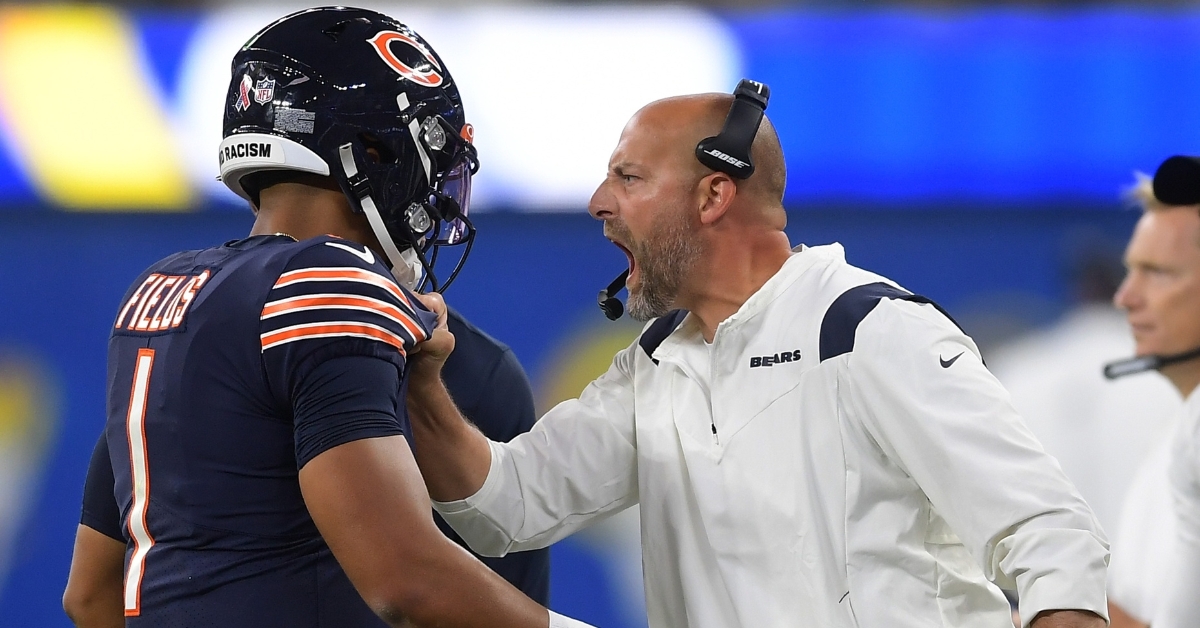 | | |
| --- | --- |
| Report Card: Bears Position Grades from Week 1 | |
---
The Chicago Bears have opened the 2021 season, but it wasn't pretty. The Los Angeles Rams defeated the Bears 34-14 in LA on Sunday night, and the Bears are 0-1 — matching the rest of the NFC North.
So let's take a look and give out some grades based on the performances by position after the blowout loss against the Rams.
Quarterbacks: C
Andy Dalton got the start at QB and didn't quite lose the Bears the game, but he certainly did not do enough to win it. In his first start with the Bears, Dalton was 27 of 38 with 206 yards on Sunday night, also throwing a red zone interception off of a batted ball on the Bears' first drive of the game. On the ground Dalton picked up 13 yards as well. Rookie Justin Fields, who many wanted to get the start at QB, did come in for a few plays. Fields was 2/2 in the air for 10 yards, also scoring his first career touchdown on the ground in the third quarter. Bottom line though, whoever plays quarterback needs to be better than the Bears were on Sunday.
Running backs: A
David Montgomery carried the Bears offense on Sunday. The third year running back had 16 carries for 108 yards and a touchdown, as he constantly embraced hits and fought for extra yards. Montgomery was certainly the bright spot on an offense that only put up 14 points. Montgomery also caught a pass for 10 yards. Former Chief Damien Williams also was solid, carrying the ball six times for 12 yards and catching four passes for 28 yards to spell Montgomery.
Wide Receivers: B-
The Bears wide receivers were not particularly good, but they were certainly not a liability. Allen Robinson was fine against shut down corner Jalen Ramsey, catching six passes for 35 yards on Sunday. Speedster Marquise Goodwin was certainly involved, picking up four catches for 45 yards. Second year wide out Darnell Mooney also picked up five catches but the yards were slim, only 26. Damiere Byrd was also involved, catching a trio of passes for 19 yards.
Tight Ends: C-
This unit certainly has talent, with Cole Kmet and Jimmy Graham handling the tight end duties for this squad. Like the rest of the offense primarily, this unit was not bad on Sunday but they were hardly involved and did not jump out the page. Kmet led the way for this unit catching five passes for 42 yards, while Graham caught just one for 11 yards. You'd like to see both tight ends get more involved as the season moves on.
Offensive Line: D+
The offensive line was not all that good. It was one of their first times playing as a full unit, and they were able to open holes for the running game fairly consistently but left Andy Dalton under duress for most of the game. They only gave up three sacks all day, and Dalton had heavy pressure on him frequently. The offensive line needs to step it up, or the Bears could be in for some long games.
Defensive Line: C
It was nice to have Akeim Hicks back, who had half of the Bears' only sack in this game. The rest of the d-line was fairly quiet all day, and they struggled to pressure Matt Stafford. The run defense was solid, but this unit also had some bad penalties so they couldn't be better than a C.
Linebackers: C+
Any unit that boasts Khalil Mack deserves some props for his play, although Mack's name was hardly called all night. Roquan Smith was good, getting six tackles and pacing the unit. For the Bears defense to be as strong as they want to be, this unit needs to carry them as it does have their two best players.
Secondary: D
This unit was flat out bad on Sunday. Eddie Jackson was missing tackles left and right and the entire unit was blowing coverages — including two touchdowns of over 50 yards being scored easily on this Bears defense. It was their first game without Kyle Fuller, and they were exposed in the secondary — we'll see how this unit is able to recover as the season goes along.
Special Teams: A
Kicker Cairo Santos delivered two made PATs on two tries, the punt unit was solid in their one attempt and they did put one inside the 20. Khalil Herbert was solid in the return game, setting up the Bears with some solid field position. Just a solid day from this unit.
Playcalling: D
The play calling was not all that strong. I liked using Justin Fields for a few plays, but I thought there were some moments the Bears could have used him. The Bears offense hardly took any shots all day, which is hard to do against the Rams defense,e but when you are down two scores, you have to try at least. We might see more of this offense next week against the Bengals, but we'll have to see if the Bears and the catching we saw on Sunday night are indicative of who this Bears team is.
Nonetheless, week one is in the books, and the Bears are 1-0. They open up their home slate next weekend at Soldier Filed against Joe Burrow and the Bengals.

Tags: Bears Football
,
Andy Dalton
,
Justin Fields
,
David Montgomery
,
Damien Williams
,
Allen Robinson
,
Marquise Goodwin
,
Darnell Mooney
,
Damiere Byrd
,
Cole Kmet
,
Jimmy Graham
,
Khalil Mack
,
Roquan Smith
,
Eddie Jackson
,
Kyle Fuller
,
Cairo Santos
,
Khalil Herbert