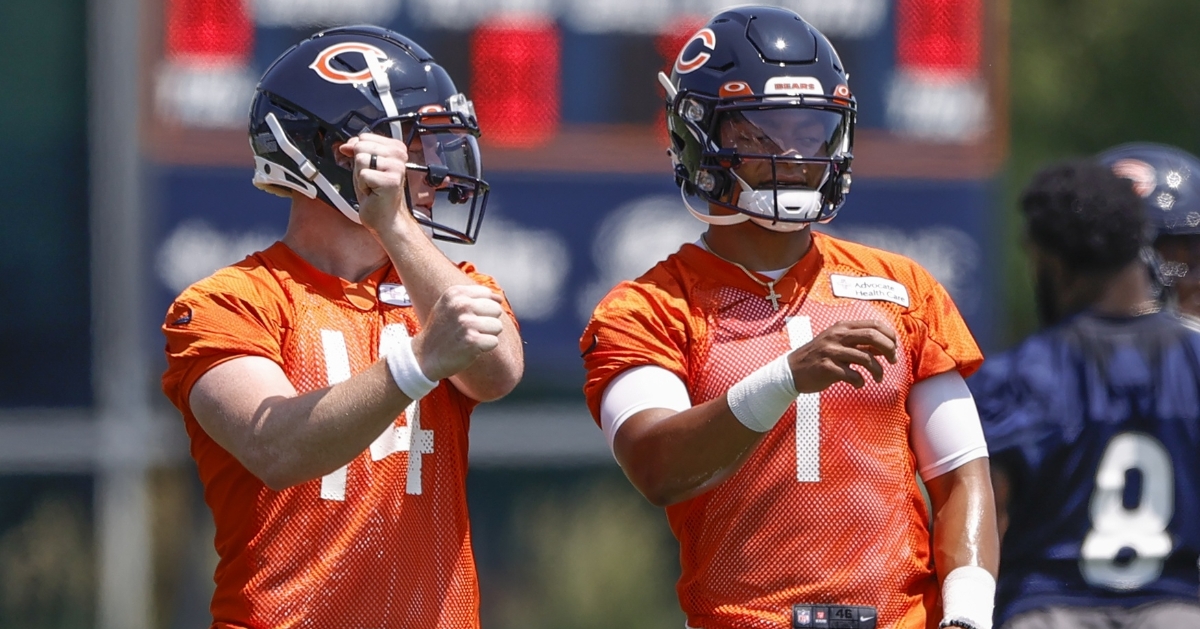 | | |
| --- | --- |
| Bears News: Fields defends Dalton against boo birds as Nagy declares Dalton will start Week 1 | |
---
| | | |
| --- | --- | --- |
| Sunday, August 22, 2021, 4:32 PM | | |
CHICAGO — Chicago Bears quarterback Andy Dalton started Saturday's Saturday's blowout loss to the Buffalo Bills, playing the entire first half and going 11-for-17 with 146 passing yards and an impressive 73-yard touchdown heave to wide receiver Rodney Adams. He was also picked off on a pass intended for Adams, who fell down while running his route. Dalton was booed by fans at Soldier Field as the Bears' offense struggled to develop any kind of consistency in the first half and was asked about it in his postgame media session.
"You know, it's part of it," Dalton said. "They want to see a good product out there."
It is hard to blame Dalton for the offensive struggles experienced by the Bears in the 41-15 loss because the Bears' offensive line was dreadful from start to finish. Dalton and his backup, Justin Fields, ran for their gridiron lives behind the line of scrimmage play after play, as the Bills collected four sacks and could have easily come up with more. In fact, the most demonstrative sack of the game was waved off due to a high hit on Fields.
"I didn't hear any boos after the touchdown pass that I threw," Dalton added. "So hopefully, they'll be cheering a lot."
Contrary to what the majority of Bears fans likely want, Dalton is set to start under center in Week 1 of the regular season, as head coach Matt Nagy doubled down on his decision to keep Dalton atop the depth chart following the preseason loss to the Bills. Telling reporters that he and the rest of the Bears' coaching staff "need to see [Dalton] in the regular season," Nagy made it clear that Fields has no chance of surpassing Dalton in training camp.
Fields did not shy away from criticizing the Bears fans who booed Dalton, stating to the press that his "advice to them would be just cheer whoever's on the field." Just they like they did in the preseason opener, though, fans at Soldier Field raucously cheered for Fields when he entered the game. In fact, many in the crowd were even chanting Fields' name while Dalton was still taking snaps, something that the rookie expressed his disapproval over.
"I really think it's kind of disrespectful to Andy, them cheering my name out like that," said Fields. "Just cheer him on, you know? That's not helping Andy play better, to cheer my name. That's not doing none of that."
The encouragement offered by Fields in support of his veteran mentor is certainly commendable, as is Fields seemingly keeping his nose to grindstone and not letting any potential quarterback battle rumors distract him. However, it is worth wondering if Fields would fare much better playing behind the Bears' injury-riddled, unreliable offensive line than the less mobile Dalton. Regardless, Dalton is assuredly aware that he has to hit the ground running at the start of the regular season in order to ward off the Soldier Field boo birds and safely maintain his starting job.